Is NIO a buy?
NIO is a company founded in China by entrepreneur William Li in 2014 that manufactures and markets high-end electric vehicles. At the time of its launch, this company caught the attention of other large companies that decided to invest in NIO and back it. Among them we can mention Lenovo, Tencent, and large investors such as Sequoia Capital.
Since its founding, NIO has grown so much that it currently has offices in Germany, the United States and the United Kingdom. But one of the most remarkable events was the IPO of its shares on the New York Stock Exchange in 2018, where the value of its shares has revalued up to 500%.
This company seeks to lead the way in the transition from internal combustion vehicles to electric vehicles, thus declaring war on Tesla. This has caused the existence of NIO to be framed within the confrontation between the United States and China.
But it should be clarified that NIO is not the only Chinese company producing electric vehicles. And although its goal is to produce intelligent electric vehicles and autonomous driving, it also has ideas that completely differentiate it from Tesla and the other companies competing in this sector.
What makes NIO stand out from its competitors?
NIO offers high-performance electric vehicles that have a range of more than 600 km. But this is something we can find in other electric vehicles from the Tesla brand.
What does set NIO apart is its charging systems, as the charge can be brought to wherever the vehicle is located. It does this with a van that is capable of providing charging for a range of 100km to two vehicles, and can also recharge Tesla vehicles. So, if a Tesla user does not have a Supercharger nearby, they can call NIO.
In addition, a recharging system that completely sets it apart from the rest is battery swapping. NIO has battery recharging stations where the discharged battery is replaced by a fully charged battery.
All this is done automatically and controlled by robots that carry out the whole process in less than three minutes. So NIO owners really care little or nothing about charging time, thus raising the company's service to a new level.
This service works on a subscription basis that users pay monthly and gives them access to the service. With the advantage of making vehicles cheaper by more than 8 thousand dollars, since users do not have to buy the battery but only subscribe to the service.
Small differences in the business model that in the future could tilt the balance towards NIO's side, making it a company that should always be taken into account.
What types of instruments can you trade?
Exchange-Traded Funds
Have you heard about Exchange-traded funds or ETFs? They are similar to index funds and are known for combining the benefits of stocks and mutual funds, because they can be traded regularly at market price, but include a much wider diversity of assets and considerably lower rates.
Index Funds
This is the best option for people who can invest in the long term, mostly for those who are starting to trade, because it is inexpensive, diversified, and the risk is lower.
You may have a different idea, but very few investors can beat the benchmark (yes, you have probably heard of investors who obtain huge profits).
But putting aside some remarkable cases (like Warren Buffett's), all that glitters is not gold: when someone brags about having beaten the index, it was probably for a limited time, or their charges are really high. In the end, indexing is better because commissions are minimal. Besides, if something happened once or twice, it doesn't mean necessarily that it will happen again in the future.
The great advantage of index funds is that they perfectly solve both issues: their rates are insignificant and in the long term they almost always beat active managers.
Forex trading
Forex or currency trading is the exchange between a pair of currencies.
If you decide to exchange EUR and USD, you speculate how many dollars it will take to buy a euro, hoping that the euro will raise its price compared to the dollar. Therefore, if you purchased each euro at 1.15 USD and you sell them back when they cost 1.20 USD, that margin will be yours.
You may be thinking by now that operating with currencies requires investing considerable amounts, and that is correct, since variations are usually minimal, and if you use a lot of leverage to counter that, you will take a considerable risk. Our recommendation for those starting in the world of trading is to choose another market to begin with, since Forex is not the safest.
You can trade with almost all well-known currency pairs on this broker but remember that Forex works with CFDs, therefore the underlying asset won't be yours.
What are CFDs?
It is possible that you have found the acronym CFD more than once if you already registered on this broker. We will explain exactly what this means, but first, you should know that CFDs on this broker are only possible when you are short-selling.
If you want to know about day trading cryptocurrency and other more advanced operations, you will also find terms such as leverage and "going short".
The advantage of this broker is that it allows you to bet both "in the black" and "in negative". For instance, you believe that the NIO will go down, so perhaps you think that the best thing to do is wait until it does and then go in. However, if it really falls, it might mean extra money for you.
You can do by "going short" which consists in something like this:
You ask someone for a loan of, let's say, 100 units of NIO, which total price at that moment is $ 5,000 (obviously, these numbers aren't real)
You make $ 5,000 by selling the 100 units
The price falls, as you calculated, and the unit of NIO now costs $ 30 instead of $ 50
You buy all 100 units once again, but at the current value, $ 3,000
Then you return the 100 units
The rest is yours, so, you will have earned $ 2000
Consider that it sounds much more complicated than how this broker CFDs actually work: we can summarize this whole operation by saying that by trading in NIO you can also earn money if you predict the downs.
How does leverage work
In case you still don't know what "leverage" is, we'll describe it briefly. When trading, it's the capacity of increasing your investment by borrowing money from the broker. For example, you can enter with $ 100, but if you leverage x2, your initial investment will be $ 200.
Leverage and the importance of "Take Profit" and "Stop Loss"
Assuming that, for example, you are sure that NIO price is going up, and that you have $ 1,000 for "going long", you must know that you can increase your investment and earn higher profits.
Possibly, you could ask your bank for a loan, wait for it to be accepted and receiving the money, and then obtain NIO… Nevertheless, when you finish doing all that, probably NIO would be already at a much higher price (if your prediction got confirmed), and investing wouldn't be a good idea anymore.
Leverage is like a credit, but it is only a few clicks away! You will be able to operate with much higher amounts than what you actually have on the platform's wallet. As in the image below, you will see the different options you have: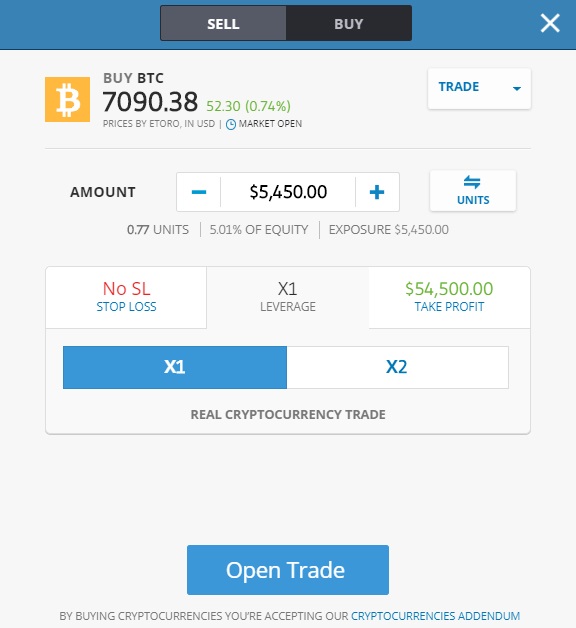 With other assets, the ability to leverage is greater. This is because cryptocurrencies are a value that is invested in the medium-long term, and leverage is used mainly for day trading or short-term trading. Let's talk a bit more about how leverage works.
If you have the $ 1,000 and choose leverage x2, you will be investing $ 2,000, as we mentioned. Your broker puts the remaining amount to reach that figure.
A few days later, as you predicted, NIO price has risen by 20% and your money has appreciated reaching $ 2,400. But you don't want to take too much risk, so it's time to sell back.
Obviously, the 1k $ from leverage will be deducted, and you'll have $ 1,400 left, of which $ 1000 was yours initially, so you'll have earned $ 400.
As you can see, with $ 1000 you get $ 400, in other words, 40% more. That's not bad at all, right?
Does it sound too good? The thing is, you can also lose money. If everything goes as planned, you will make more money in less time; however, if the value of the asset goes down, you will also lose more in less time.
Supposing that the asset didn't increase by 20%, but it decreased also by 20%, you won't lose $ 20 but $ 40, because of the leverage. For that reason, when trading with leverage it is fundamental to know about Take Profit and Stop Loss.
Take Profit is used as a form of reducing risks when trading. When you enter, you can set a profit limit and ask that your position is automatically closed when the asset reaches a price. 
If you bought NIO shares at $ 100, you can ask your broker to close once it reaches $ 120. That way, you make sure you won't change your mind and decide to wait a bit longer in case it keeps rising, which could make you lose it all.
Stop Loss is even more necessary, mostly when operating with leverage, since a small loss could have a significant impact. Consider that your broker will recommend a limit for Stop Loss, but it is better to place it lower than that.