Recommended Broker 🇳🇬

⭐⭐⭐⭐⭐

👌

Difficulty
Low

☢️

Commissions
Very low

💲

Minimum deposit
100$

🪙

Cryptocurrencies
Uniswap & 45 more

🎁

Welcome bonus
25$ free when creating the account

🌐 Official website:

Go to website
What is Uniswap?
Uniswap is the most widely used decentralized cryptocurrency exchange today and one of the largest exchanges by daily trading volume. Although it is actually a smart contract that is responsible for providing liquidity to the exchange market automatically.
It was created in 2018 by Hayden Adams inspired by some comments from Vitalik Buterin, the genius behind Ethereum. The Uniswap smart contract was designed to fulfill three basic functions: exchanging, sending and stacking cryptocurrencies.
And because it is a smart contract on the Ethereum network, it allows these operations to be performed with any ERC-20 cryptocurrency. ERC-20 are cryptocurrencies that work on the Ethereum platform, among them we can mention BinanceCoin, Tether, DAI stablecoin, among others.
How does Uniswap work?
.
How we already mentioned, it is a smart contract implemented on the Ethereum network so there are no people behind its daily operation. All the operation was set in advance in the main contract and after executed, it cannot be modified in any way.
In addition, Uniswap contains a smart contract for each cryptocurrency pair exchanged on the platform. That is, there is a contract to exchange Ethereum for Tether, another for DAI for BinanceCoin, and so on for each pair that can be exchanged.
Similarly, it has another contract for sending cryptocurrencies that allows you to exchange one token for another before it is sent to the destination address. So, if you have Ethereum in your wallet and you have to pay for something with Tether, you can send the Ethereum with Uniswap and the person will receive Tether. All with a small commission of 0.30% per transaction.
The most interesting thing is that Uniswap maintains the liquidity balance in the market automatically based only on a mathematical formula. Although it is the Uniswap users who participate in the stacking or pooling that actually provide the liquidity.
In the latter, users who stack or pool in Uniswap, deposit an amount of cryptocurrencies to the contract that maintains the liquidity of a certain pair and in return receive interest on the deposit made. Like a savings account, but with cryptocurrencies.
In this way, Uniswap fulfills its three established functions in a completely decentralized way, controlled only by smart contracts within the Ethereum network and in a completely transparent way, as there is no way to alter its operation.
These are the financial instruments you can trade
Shares
Now let's talk about the most well-known financial instruments: stocks. Stocks are the parts of publicly traded companies. It is possible to obtain a profit with the performance of third-party companies just by putting your money in them. But of course, you have to know how to invest.
We can group stocks into two different kinds: those that pay dividends and those that do not. Those that pay, at the end of the fiscal year, distribute their profits among the stockholders; the latter, on the other hand, do not. However, this is not to say that the latter have less to offer. If a company does not pay every year but has a lot of potential, it is also worth investing in it, since the capital gain you will get from the sale of the shares can be much greater than what you would earn through dividends.
On this broker, if you choose a company that pay out dividends, you will receive them in your account, and you can withdraw those funds or invest them back. We suggest, if you don't have financial urgencies, that you take advantage of compound interest and reinvest it in the company.
Remember that when investing in shares on the broker you can use leverage to "dope" your trades, but in that case, you will not receive dividends as it would be a contract for difference. For that reason, for long-term investments, it is better not to use leverage: not just because you lose dividends, but you will also have to pay fees while you keep the position open, and these can end up with your profit.
Index Funds
Are most adequate for those interested in long-term trading, mostly for beginners. If you don't need to use the amount of money you'll invest in less than five or ten years, index funds offer you variety and lower risks.
You may think differently, but beating the benchmark is far from being a piece of cake and very few fund managers achieve that, apart from some specific cases.
If someone brags about having beaten the index, they probably did it for a short time or on a specific occasion, or sometimes the commissions are so high that indexing would be a better decision.
Index funds offer solutions to both concerns: their rates are insignificant and in the long term they tend to beat active managers.
About Contracts for Difference
You probably have seen the acronym CFD more than once if you entered this broker before. We will come back to it, but first, you should know that CFDs on this broker are only possible when you go short or choose leverage over x2 (but this is not even an option on this broker).
We will also explain terms like leverage and "going short", in case you are interested in day trading cryptocurrency or other more advanced practices.
The advantage of this broker is that it lets you bet both "in the black" and "in negative". For example: you are sure that the Uniswap will go down, so perhaps you consider that it is better to wait until it does and then go in. But if it actually falls, you can earn some money out of that.
You can accomplish that by "going short". Here's how it works ,roughly:
Someone lends you, for example, 100 units of Uniswap, with a total price of $ 5,000 (these numbers are completely made up)
You make $ 5,000 by selling the 100 units
The Uniswap goes from $ 50 to $ 30 (as you thought, the value decreases)
You obtain the 100 units again, but their total current value is now $ 3,000
You return the 100 units to whoever loaned them to you
The $ 2000 difference is yours
Take into account that it sounds much more complex than it is: we can summarize this whole operation by saying that by trading in Uniswap you can also earn money if you foretell it will go down.
Leverage: more risk, more gains
Do you know what leverage is? Just in case, we'll define it briefly: another advantage of trading is that it lets you invest more money than what you really have. That is, if you enter with $ 100 and you use x2 leverage, the amount of your investment will be $ 200.
Leverage, Take Profit and Stop Loss
Let's say that you are sure that Uniswap will raise its price, and you want to "go long". You have $ 1,000, but you actually can invest more and make more money.
There's the possibility of requesting a credit, but it is a process that takes time, and when you receive the money, Uniswap might be already at a much higher price, so you wouldn't be able to invest the way you planned.
With leverage, you can obtain that amount really easily. It's like a loan, but much better: you will get it from your broker, which lets you invest much more than you have on the platform. You will simply see the different options as in the image below: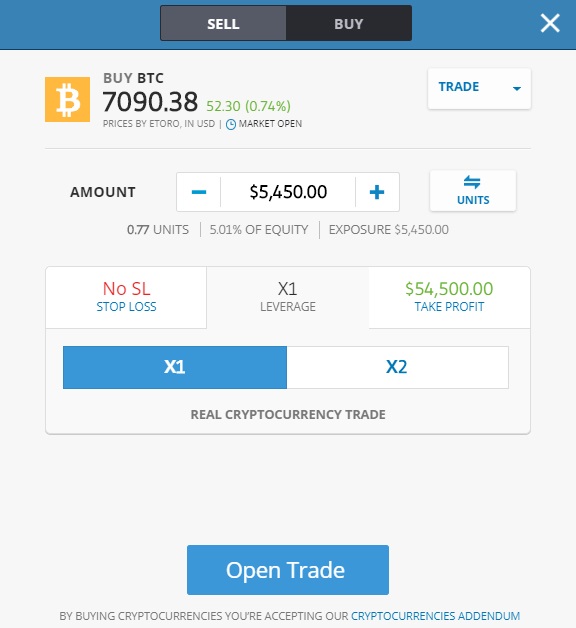 Within other markets, you can use more leverage. Why? Because cryptocurrencies are a value that is invested in the medium-long term. However, leverage is used mostly for short-term operations or day trading. Let's talk a bit more about how leverage works.
If for your investment of $ 1,000, you choose leverage x2, your investment is 2 * $ 1,000, that is to say, $ 2,000. Your broker would be "loaning" you the extra $ 1,000.
A few days pass and turns out that you were right: Uniswap has risen by 20% and the value of your investment is now $ 2,400. But you don't want to take too much risk, so it's time to sell back.
You will have to give back the $ 1,000 of leverage and you will have made $ 400 (since the other $ 1,000 was your initial investment).
By starting with $ 1000 and getting $ 400, you'll be earning 40% of your investment.
But there's always a downside. If all goes as you intended and the asset increases, you will make profits. Nevertheless, if the asset decreases, you will also lose more money in the blink of an eye.
For example: if instead of increasing by 20%, the price falls by 10%, you do not lose $ 10, but $ 20. For that reason, the concepts of Take Profit and Stop Loss are fundamental when using leverage.
Take Profit is used as a form of reducing risks when trading. When you enter, you can set a profit limit and ask that your position is automatically closed when the asset reaches a price. 
If you purchased Uniswap at $ 100, you request the broker to close when it reaches $ 120. That way, you make sure you won't change your mind and decide to keep waiting in case it keeps going up, which could make you lose it all.
Also, if you use leverage you absolutely need to place a Stop Loss order (take into account that any small loss is greater with leverage). That is why it is essential to establish a Stop Loss more conservative than that suggested by your broker.